"Silent night, holy night"? The populist performance of neo-traditionalism and classical masculinity in PEGIDA's Christmas celebration
by Sabine Volk
Last Sunday, the Dresden-based far-right populist movement PEGIDA organized its annual 'Christmas carol singing'. The event, which resembled a demonstration rather than a spiritual Christmas celebration, gathered around 1,000 followers and a couple of international guests on one of Dresden's most iconic squares. At the same time, counter-protests formed to disturb the event with horns and drums.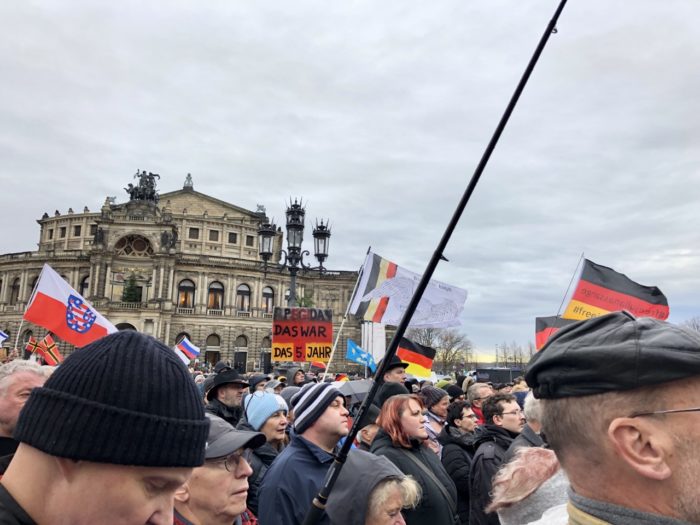 "Silent night, holy night" resounded across Dresden's iconic Theatre Square last Sunday afternoon, less than a fortnight before this year's western Christmas Day. From time to time, a wave of incense infused the humid air on the square. However, the mood was neither peaceful nor spiritual between Dresden's impressive Baroque-style opera building, residence castle, beautiful 'Zwinger'-palace and Catholic cathedral. The carol singers were followers of the far-right populist PEGIDA movement. The local organizers had called upon the citizens of Dresden and beyond to join the sixth annual 'PEGIDA Christmas celebration'. Yet, with its many xenophobic and often rabble-rousing speeches, the event resembled PEGIDA's typical bi-weekly demonstrations rather than a solemn celebration of one of Christianity's most important holidays. Indeed, the mixture of a handful of traditional German Christmas carols and local as well as guest speakers offered a pot-pourri of far-right and populist politics – ranging from xenophobic and Islamophobic propaganda to criticism of the German and European democratic systems and political establishment. A crowd of around 1,000 followers, estimated by a local newspaper, diligently listened and applauded to what the speakers had to say.
Similar to PEGIDA's five-year anniversary earlier this year, PEGIDA's Christmas gathering was an occasion for German and international far-right activists to mingle. The group around local organizer Lutz Bachmann recruited representatives of various regional and national far-right organizations to speak to the crowd. These included German initiatives such as the Islamophobic 'Peace Europe' (Pax Europa), the traditionalist 'Future Homeland' (Zukunft Heimat) and Nuremberg's extremist PEGIDA off-spring. Moreover, Bachmann and his crew had invited international guests such as the popular Austrian Martin Sellner from the Identitarian Movement and his wife, the American blogger Brittany Sellner. Prominently announced, but absent in the end, was the founder and former leader of the British far-right extremist English Defence League, Tommy Robinson. Still, PEGIDA once more managed to stage itself as a rallying point for international far-right cooperation in Europe.
Neo-traditionalism in post-socialist populist politics
One of the most striking features of PEGIDA's Christmas event was the display of a vague notion of 'German', 'Christian' or 'family' traditions. Following the Polish-American political anthropologist Jan Kubik, the emphasis on a specific reading of national traditions and heritage is a recent trend in the post-socialist societies of Central and Eastern Europe. This includes eastern Germany with its political heritage of the socialist German Democratic Republic. Kubik labels this trend 'neo-traditionalism', referring to new forms of conservative, often nationalist, and close-minded worldviews that are manifested and purported in bottom-up conservative sub-cultures. Neo-traditionalist politics typically demand the protection of the national collective, its ethnic and cultural purity and traditions as well as its traditional social, particularly gender, roles.
Neo-traditionalism can be understood as a social and political counter-reaction to accelerated modernity manifested, for instance, in the spread of cosmopolitanism and multiculturalism. Due to the particular historical situation, neo-traditionalism is particularly common in the post-socialist societies of Central and Eastern Europe. Indeed, those societies went through especially fast processes of modernization after the revolutions in 1989 and the following transition from state socialism to liberal democracy and market economy. The accelerated modernization has triggered feelings of transformational fatigue, expressed in psychological disorientation and frustration, amongst broad sectors of society. The concept of neo-traditionalism thus also draws a parallel between today's burgeoning conservatism in post-socialist Central and Eastern Europe and the conservative counter-reactions to the intellectual and political changes associated with the European Enlightenment and the French Revolution in the nineteenth century, with the intellectual movement of German Romanticism as key example.
Neo-traditionalism in PEGIDA's populist style
The entire PEGIDA movement can be read as a neo-traditionalist counter-reaction to the social changes associated with economic and political modernization. PEGIDA claims to defend the Christian Abendland (Occident). Rooted in German nineteenth-century Romanticism, the notion of the Abendland describes the conservative utopia of restoring a traditional society built on an ethnically and culturally homogeneous 'people' bound together by common heritage and traditions such as Christianity and conventional social roles. Aiming to restore a more traditional German society without foreigners and bound together by conservative family values, the PEGIDA demonstrators show their disenchantment with the uncertainties and contingencies of life in the 21st century.
PEGIDA's populist style draws on a broad repertoire of traditions which serve as legitimation for the movement's contentious political action. Most importantly, PEGIDA chose a popular custom to give a festive frame to what actually was a political protest event. Indeed, the collective singing of well-known German-language carols is one of the most popular Christmas traditions in Germany. It is widely practiced in families, school and kindergartens, during specifically designated events in both Protestant and Catholic churches, and so on.
At the same time, past Sunday's event constituted a tradition or ritual in itself. As hinted to above, it was already the sixth year in a row that PEGIDA organized a special event shortly before Christmas. Since the first time that PEGIDA had invited for Christmas carols at the very beginning of its political activity in the fall of 2014, the Christmas events have professionalized significantly. Whereas the first joint interpretation of carols in 2014 was more of an improvisation, a Dresden-based folk song ensemble supported this year's event with instruments and a small choir, and sheets with lyrics were distributed beforehand.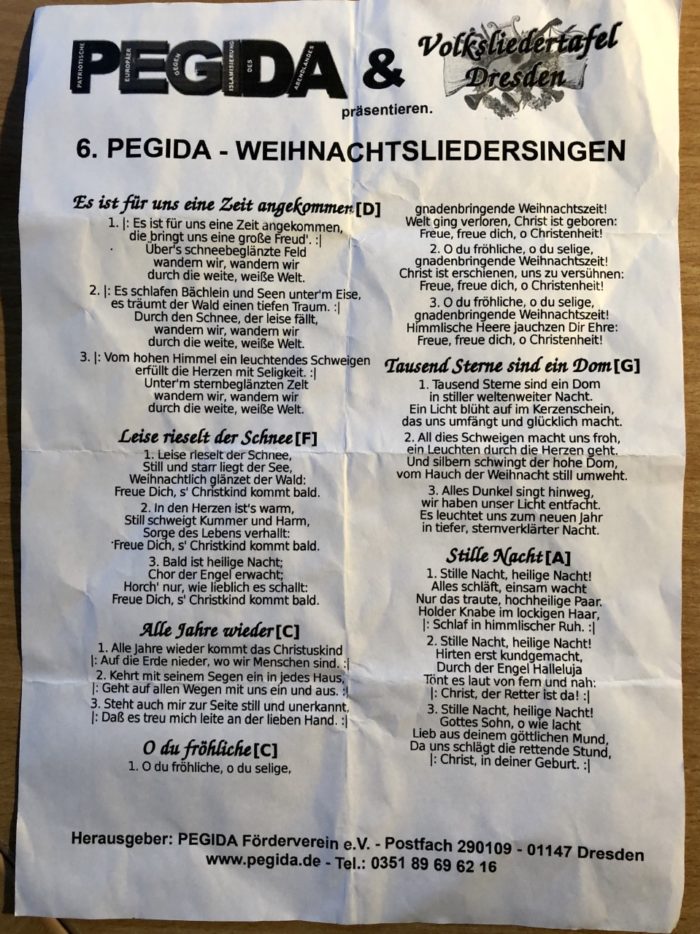 Performing classical masculinity
A notion of classically conceived heterosexual, white masculinity is at the core of PEGIDA's neo-traditionalist style. Each demonstration references so-called 'masculine virtues' such as courage, persistence and responsibility for the collective. The Christmas celebration did so in various symbolic and material ways. The speakers typically emphasized the outstanding courage of the PEGIDA supporters to openly voice their political opinion despite the alleged lack of freedom of expression in the context of the 'leftist-liberal mainstream', persisting in spite of a perceived repression from both the state and civil society. Moreover, they prided themselves in playing an avant-gardist role to induce political change in Germany and beyond. Moreover, speakers denied the recurrent notion that far-right populists stylize themselves as 'victims' of the leftist-liberal mainstream. Indeed, Martin Sellner from the Austrian Identitarian Movement highlighted that, even though he had been suffering from state-induced injustice, he did not come to Dresden "to whine about it, but to celebrate" with the local crowd.
Beyond the linguistic references to conventional masculine virtues, PEGIDA dramatically performed the claim to 'true masculinity'. Towards the end of the Christmas event, Martin Sellner from the Identitarian Movement received a quite peculiar present from the local organizer Lutz Bachmann: a key chain in the shape of testicles. Quoting Bachmann, this award was to show that Sellner 'has balls', hence is a 'real man' rather than one of the many 'effeminate' leftist men. A look beyond Saxon and German borders reveals that the vulgar notion of 'having balls' is a recurrent theme in western far-right politics, noted by Astrid Séville in this winter's edition of the German journal Kursbuch – Revolte 2020.
The obsession with performing masculinity is also reflected in PEGIDA's personal make-up. Men clearly dominate the movement. Very few women are involved in the demonstrations, neither on stage nor among the crowd. While women still occupied more prominent roles in the early phase of the movement – fitting examples are co-founder Kathrin Oertel and the former spokesperson Tatjana Festerling – the relevance of women seems to have decreased over the past years. Women usually appear as anonymous victims of aggression from 'foreigners' or as loving supporters of their partners' political activity in the speeches of male PEGIDA activists. Even though this year's Christmas event featured two female speakers, their role further underlined PEGIDA's ambiguous stance towards women's emancipation. The two female speakers did not provide their own political input. Instead, the local group member Ines read out a list of German victims of 'foreign' offenders, while Brittany Sellner stood in for the absent Tommy Robinson, reading out his original English-language speech.
"Silent night, holy night"? Arguably, nothing about this afternoon with PEGIDA on Theatre Square was 'silent' or 'holy'. Despite the festive announcement of the event, the main topic were PEGIDA's xenophobic and anti-elitist positions that Dresdeners know all too well after more than five years of the movement's contentious political activity. Hence, the event once again triggered counter-protests by local leftist and libertarian initiatives such as 'Mission Lifeline' and 'Get Nationalism out of the Minds' (Nationalismus raus aus den Köpfen). With horns and drums, the groups tried to drown the sound of PEGIDA's speeches and singing. As usually, an army of policemen and policewomen were on the spot to separate both demonstrations from each other.Judging from PEGIDA activists' condescending and hateful responses to the counter-protestors, it seems quite improbable that the self-declared defenders of the Christian Abendland actually realize the core meaning of the lines "Silent night, holy night" before this year's Christmas Day.