What Could Be More Polish Than Your Red and White? Kicking off the New Year with KS Cracovia
By Michael Cole
7th January 2020
'How would you like to spend New Year's Day with some of the most violent football hooligans in the world?' I asked optimistically. 'Sure' answered my girlfriend. 'They have popcorn, right?'
And so, nursing our traditional first of January hangovers, we set off across Park Błonia, the 500 metre-long expanse that separates the homes of Krakow's two rival football clubs Wisła and Cracovia. Our destination was the Marshal Josef Pilsudski Stadium for one of the longest standing, and possibly most unique, traditions in the Polish sporting calendar – Cracovia's New Year Training Match.
Now, before moving to Poland most of the stories I'd heard about football here had little to do with the game itself. Lacking the bottomless pockets of their English, Spanish and Italian counterparts, Polish clubs have been way off the pace in European competitions for as long as most can remember. Their hooligans on the other hand, command the kind of reputation that undoubtedly makes them, in their own way, world class.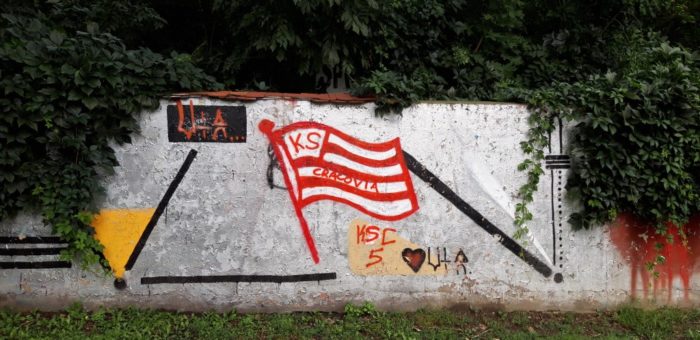 City of Knives
Brutal and even fatal clashes between Polish ultras became so commonplace on match days that in 2004 they felt compelled to draw up their own code of conduct. Firms representing sixty-eight of Poland's seventy professional clubs signed the Poznan Pact in which they agreed to keep fighting each other, but only on the proviso that 'tools' such as crowbars, knives and bricks were off limits. There are no prizes for guessing the two only clubs whose ultras opted out. The refusal by both Wisła's 'Sharks' and Cracovia's 'Jude Gang' (also known as simply 'Anti Wisła') to subscribe to this new doctrine earned Krakow the nickname 'City of Knives'. Despite sounding quite catchy, the label was something of a PR problem for the Polish authorities in the build up to the country's joint hosting of the 2012 European Championships with neighbours Ukraine. But whilst Euro 2012 certainly didn't go off without a hitch, the scale of fan violence was nowhere near the levels predicted prior to the tournament by sensationalist media.
Fortunately there was little chance that today's game would provide a stage for the latest battle in the ever-raging Holy War between Krakow's rival football firms. In fact, it was quite the opposite. Kicking off at noon, the New Year's Day Training match is an annual friendly between Cracovia's first team and their reserves, Cracovia II. The tradition began back in 1924, when Cracovia players were leaving a New Year's Eve party. Not yet in the mood to go home, they instead decided to head for the football stadium and have a kick-about in the snow. The game was so enjoyable, and presumably Krakow's now infamous nightlife was much less appealing in those days, that they decided to have a rematch the following year.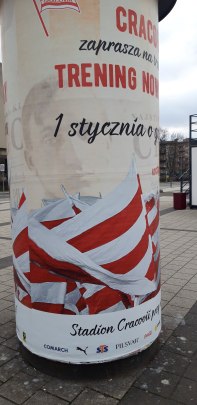 Almost a century later, there's certainly less snow on the ground than there would have been during that inaugural game, but the tradition continues. For many in the crowd, the football itself provides background entertainment, only sporadically demanding to be the centre of attention. Think cricket test match but without the costumes. Nevertheless, the constant stream of fans who roll in during the first half are clearly in high spirits. Hugs, handshakes and New Year's greetings all round are the order of the day. Some appear to have arrived directly from last night's parties, grabbing a beer or two on the way out the door to smuggle into the ground with them. The hapless stewards are less than impressed by those surreptitiously swigging from bottles of Tyskie concealed unconvincingly beneath winter coats, but any efforts made to confiscate them are predictably futile.
Meanwhile on the pitch, aptly named Cracovia first team captain Janusz Gol calmly sidefoots the ball into the net, putting his side into the lead. And it's around about now that the occasion takes a slightly surreal turn. At the time, I was unable to explain why Gol and his teammates ran over to a fire engine in the corner of field, dressed up in helmets and grabbed a hose to pose for photos with the local safety crew. But, as it turns out, over-the-top, choreographed goal celebrations are something of a staple in this fixture.
New Year Celebrations
Goalscorers in years gone-by have driven a car round the pitch, pretended to skittle over their teammates in a game of ten-pin bowling and even mimicked gunning them all down with the corner flag. Today we were treated to a hastily arranged Macarena dance routine and an impression of a rugby player enthusiastically scoring a try. To be fair, it can't be easy coming up with so many novel celebration ideas year after year, especially when the games are liable to end up with ridiculous scorelines, like today's 8-4.
Gol's opening strike is prized for another reason though. Owing to the early kick off time, the Cracovia skipper not only breaks the deadlock in this tie. It's also the first goal of the entire year. Anywhere in the world. And if that isn't enough cause to dress up as a firefighter, then what is?
Despite the jovial atmosphere, the darker side of Polish football is never completely out of site. Since 2005 over 600 people have been charged with involvement in a huge match fixing scandal, including high profile figures like former national team star Łukasz Piszczek. And if I hadn't already realised by now that it was all part of the show, my suspicions about the integrity of today's referee would surely have been raised when he awarded a criminally soft penalty mid-way through the second half.
First team defender Mihal Siplak burst into the area and, under the lightest of challenges, went down more easily than a shot of Soplica on a British stag party in the old town. Demonstrating Oscar-worthy acting skills, the ref pushed his way through a crowd of protesting players and pretended to re-watch the incident on a pitch-side 'monitor'. After a moment to ponder, a theatrical VAR gesture was made to the now enraptured crowd, before he pointed once again to the spot to confirm his decision. Seeing VAR made fun of in an actual pantomime like this is far more enjoyable than enduring the intolerable farce it has become week after week in the English Premier League.
Family Firm?
So what about those notorious Polish hooligans? Well, if there are any amongst us, apart from setting off couple of loud firecrackers in the stands, they appear to be on their best behaviour. Perhaps it's something to do with the high ratio of women and children in attendance, or the lack of any opposition to taunt. Or maybe today they're aware of the need to take regular breaks from screaming 'CRA – CO – VYA!' to act as concerned uncles, fathers or older brothers to the younger family members they've brought with them. For that next generation, today is a golden opportunity to begin absorbing the atmosphere and rituals of the stadium that one day they might also consider truly their own.
For now, cheerful mothers are close at hand to cover impressionable young ears during the more graphic chants about the sworn enemy from across the park. But one day soon they will know all the words and be able to add their own voices to heartfelt renditions of the Cracovia hymn. This impassioned and whimsical ode to Krakow's glorious past as the capital of Poland, reaches a burning crescendo with a solemn vow never to defect to 'the dogs' (a reference to Wisła and their past associations with the communist police). It's hard to be amongst it and not feel like you belong.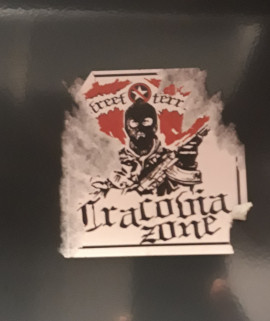 As the entertainment draws to a close, and the players lead those remaining hardcore fans in an Icelandic Viking Thunder Clap, we make our way to the exit. I suppose it's true to say that we began 2020 in the company of some of the world's scariest football hooligans. And my girlfriend even managed to get some popcorn. But walking home across Park Błonia and past Wisła's Miejski Stadium, I have no doubt that the next Holy War will be a totally different ball game.