Workshop 'Delayed transformational fatigue'
Dates: 27-28 August 2018
Location: UCL School of Slavonic and East European Studies, London
The objectives of the first workshop were to set out the intellectual rationale for as well as the aims, objectives and structure of the project; enable the ESRs to benefit from the insights of members of the Expert Advisory Board, Prof. Cas Mudde and Prof. Ruth Wodak, two of the world's leading authorities on populism; and to give the ESRs the opportunity to present and receive feedback on their proposed research.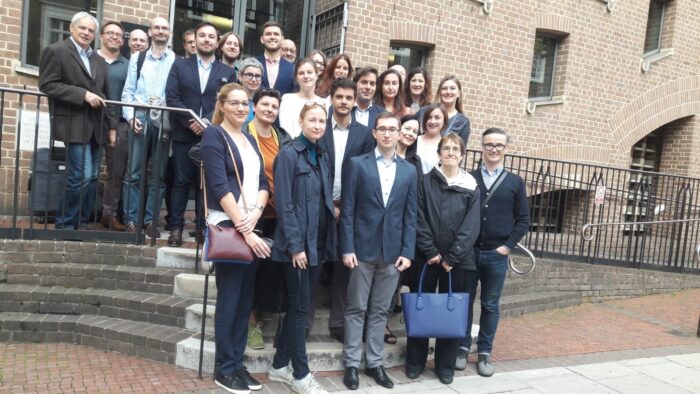 Day 1: 27 August 2018
10:00 Welcome
Richard Mole, the Principal Investigator, and Jan Kubik, the Scientist-in-Charge, welcome the ESRs.
Richard Mole explains the structure of the three-year programme. Jan Kubik explains the intellectual agenda of the programme.
13.15 The Work Packages
The Work Package leaders introduce the aims of each Work Package.
14.15 Welcome address
Professor Cas Mudde, Member of the FATIGUE Advisory Board, gives a lecture entitled 'What is populism?' and takes questions from the ESRs.
15.00 What is populism?
Jan Kubik leads a discussion with the ESRs of three keys texts on populism:
Mudde, Cas and Cristóbal Rovira Kaltwasser. (2017). Populism: A Very Short Introduction. New York: Oxford University Press
Inglehart, Ronald F. and Pippa Norris. (2016). "Trump, Brexit, and the rise of Populism: Economic have-nots and cultural backlash." Harvard Kennedy School Faculty Research Working Paper Series, RWP16-026, August
Kubik, Jan. (2018). "FATIGUE: What Is It All About? A Programmatic Statement."
16.30 WP-specific populism literature
The ESRs break out into their WP groups and discuss academic literature related to their specific projects.
WP1: ILLIBERAL DEMOCRACY AND RIGHT-WING POLITICS
Bustikova Lenka, Guasti, Petra (2017), "The Illiberal Turn or Swerve in Central Europe?", Politics and Governance, 5:4, 166-176.
Sedelmeier, Ulrich (2017), "Political safeguards against democratic backsliding in the EU: The limits of material sancions and the scope of social pressure", Journal of European Public Policy, 24:3, 337-351.
Cas Mudde (2016) The Study of Populist Radical Right Parties: Towards a Fourth Wave, C-REX Working Paper Series, no. 1, 2016.
Pytlas, Bartek (2016) Radical Right Parties in Central and Eastern Europe: Mainstream Party Competition and Electoral Fortune. London: Routledge. (Ch.1 and 2).
WP2: POLITICS OF MEMORY
Wulf Kansteiner, "Finding Meaning in Memory: A Methodological Critique of Collective Memory Studies", History and Theory, 2002.
Jan Assmann, "Collective Memory and Cultural Identity", New German Critique, 1995.
Emily Keightley, "Remembering Research: Memory and Methodology in the Social Sciences", International Journal of Social Research Methodology, 2010.
Michael Bernhard and Jan Kubik, "A Theory of the Politics of Memory," in Twenty Years after Communism: The Politics of Memory and Commemoration, Oxford University Press, 2014, pp. 7-34.
WP3: ECONOMIC POPULISM AND INEQUALITY
Guiso, L., Herrera, H., Morelli, M. and Sonno, T. (2017) 'Populism: Demand and Supply.' Working paper: www.heliosherrera.com/populism.pdf
Becker, S.O., Fetzer, T. and Novy, D. (2017) 'Who voted for Brexit? A comprehensive district-level analysis,' Economic Policy, Volume 32, Issue 92, 1 October 2017, 601–650
Kornai, J. (2017) 'Hungary's U-turn. Expanded version': www.kornai-janos.hu/Kornai_Hungary's%20U-Turn%20-%20full.pdf
Rodrik, D. (2018) 'Is Populism Necessarily Bad Economics?' AEA Papers and Proceedings, 108: 196-99.
WP4: CULTURES OF REACTION: XENOPHOBIA, ANTI-SEMITISM, HOMOPHOBIA
Kajta, J. (2018) 'Discursive Strategies of Polish Nationalists in the Construction of the Other. The Case of Muslims and Homosexuals', Intersections: East European Journal of Society and Politics, vol. 3, no. 3, 88-107.
Karris, A. (2018) 'The Radical Right and Islamophobia' in Rydgren, J. (ed.) The Oxford Handbook of the Radical Right. Oxford: OUP.
Wodak, R. (2018) 'The Radical Right and Anti-Semitism' in Rydgren, J. (ed.) The Oxford Handbook of the Radical Right. Oxford: OUP
WP5: CIVIL SOCIETY AND PROTEST MOVEMENTS
della Porta, D. (2013) Can Democracy Be Saved? Participation, Deliberation and Social Movements. London: Wiley
Kriesi, H. (2014) 'The Populist Challenge', West European Politics, vol. 37, no. 2: 361-378
Wieworka, M. (2005) 'After New Social Movements', Social Movement Studies, vol. 4, no. 1, 1-19
Day 2: 28 August 2018
10:00 Welcome
Welcome from Prof Diane Koenker, UCL SSEES Director
10.15 Keynote address
Professor Ruth Wodak, Member of the FATIGUE Advisory Board, gives a lecture on the discursive strategies of populist politicians.
12.00 ESR introductions
Each of the ESRs introduce themselves and present their FATIGUE project. They receive feedback from the PI, the scientists-in-charge, the members of the Advisory Board and from their fellow ESRs.