Márki-Zay vs Orbán: Will the 2022 Elections be a Tale of Two Anti-Elitisms?
By Rita Hornok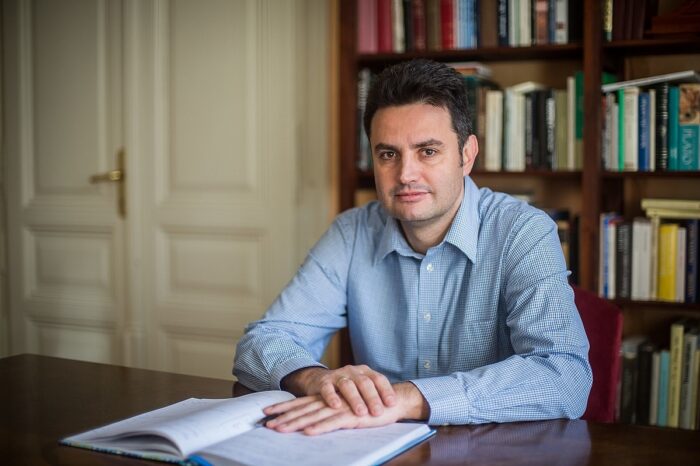 In September – October 2021 two-round primary elections were held in Hungary to decide which of the United Opposition's candidates would run against Prime Minister Viktor Orbán in the parliamentary elections in April 2022. Hungary's first ever opposition primaries were generally considered a great success, having mobilised over 850,000 voters, almost 10% of the electorate. Reading the media coverage, one could be left with the impression that Hungary is electing a US-style President, based on the amount of discussion about who will be facing Orbán.
As it is already known, the winner was Péter Márki-Zay, who is often labelled a conservative, anti-establishment candidate. This blog piece looks at Márki-Zay's profile and appeal to Hungarian voters as well as at his campaign, especially how one of its main features, anti-elitism, can be contrasted to the anti-elitist discourse of Orbán.
The Hungarian Electoral System and the Need for Opposition Primaries
After substantial reforms of the electoral system by the Fidesz government in 2012, the Hungarian Parliament currently consists of 199 MPs who are elected in a
one-round, two-ballot, mixed system. 106 seats are allocated for the winners in the single-member constituencies, while 93 are distributed through the national party list. Votes for unsuccessful candidates and surplus votes for the winners are calculated to favour the winning party, tilting the playing field to Fidesz's advantage.
After failure to unite in 2018 and Fidesz's third supermajority, in 2020 six opposition parties (from the social-liberal Democratic Coalition to the formerly far-right Jobbik) decided to run together as the United Opposition in the 2022 elections, trying to maximize their chances of defeating Fidesz. The decision wasn't easy and required compromises from all sides (crucial to it was Jobbik's move to the centre), but the union was mostly supported by voters.
Although Hungary is a parliamentary system, where the Prime Minister is elected by the Parliament and holds limited power, there has been lot of interest over the opposition PM candidates as they play a symbolic and, moreover, a mobilizing function.
Furthermore, the selection of the opposition's single constituency candidates and challenger to the PM through primaries provided an opportunity for competition between and inside the parties, as well as a test for the mobilization of opposition voters. It has been an exercise of direct democracy that infused the lukewarm opposition politics with new energy. Among the main benefits of the pre-elections were the series of debates held between PM candidates, as well as on the local level, through which the opposition took control of the political discourse, after long months of Fidesz setting the agenda.
The Hungarian Primaries: Who's Who?
The Hungarian pre-elections were organized by 6 opposition parties to decide the
one-to-one challengers to Fidesz candidates in the single-member constituencies, as well as the PM candidate who will lead the opposition list. Although not all opposition parties run their separate candidates for the primaries in the single-member constituencies, in most cases 2-3 candidates competed with each other, with supporting parties grouping behind them (which sparked some controversy about potential pacts between the parties). The PM candidate elections were composed of two rounds, the second round consisting of the top 3 winners. Votes could be cast both in person and – for the first time – online. Competing for the PM candidacy, were:
Gergely Karácsony, Párbeszéd [Dialogue] – MSZP – LMP,
green, social-democrat, [European affiliation: S&D, Greens/EFA],
mayor of Budapest
Klára Dobrev, Democratic Coalition (DK), social-liberal [S&D]
Péter Jakab, Jobbik, national-conservative (previously far-right)
András Fekete Győr, Momentum Movement, centrist, liberal [ALDE]
Péter Márki-Zay, Mindenki Magyaroszága Mozgalom (MMM)
[Everybody's Hungary Movement] – independent, conservative,
mayor of Hódmezővásárhely
The predicted favourite of the primaries was mayor of Budapest, green-socialist candidate Gergely Karácsony, representing a conciliatory approach in contrast to the more radical other candidates. He built his campaign on his reputation as a mayor, who won in Budapest after two Fidesz terms, and his ability to unite the diverse opposition with a green, social programme. Karácsony however underperformed (27.3%) in contrast to predictions, partially because of the government's constant attacks on him.
The first-round of the primaries was won by Klára Dobrev (34.84%), candidate of the biggest and most organised opposition party, the social-liberal DK, who is also a vice-president of the European Parliament. Although experienced in national and international politics, Dobrev was a highly controversial candidate, as she is the wife of Ferenc Gyurcsány, Hungary's ex-PM and one of the most disliked politicians, who for many Hungarians represents the old, failed opposition of the mid-2000s. Gyurcsány, furthermore, is one of the favourite targets of Fidesz's anti-opposition campaign. For this reason, although winning the first round by a significant margin, Dobrev was considered by many (including Márki-Zay) as not being able to appeal to unsure and right-wing voters, thus having no chance against Orbán in 2022.
After a somewhat unexpected underperformance of Jobbik (14.08%) in the first round (their candidate, Péter Barnabás Farkas, mayor or Ózd, was involved in an antisemitic scandal), Márki-Zay came in third to most people's surprise, securing 20.4% of votes. As a result, the Hungarian opposition faced a dilemma going into the second round.
Interestingly, András Fekete-Győr, Momentum's centrist candidate, who also presented himself as the "new opposition" and campaigned with anti-elitist slogans but was considered by many not yet experienced enough for the PM position, did not gain many votes (3.39%), as some of his supporters opted for Karácsony or Márki-Zay instead. Momentum, however, achieved success on the local level (winning 15 constituencies), and after the first round was the first party to throw its support behind Márki-Zay. Fekete-Győr resigned as leader of the party after a vote of no-confidence.
Results of the first round of opposition primaries

The Result That No One Saw Coming
In an unexpected turn of events, with the Mayor of Budapest Gergely Karácsony finally stepping down in his favour, Márki-Zay emerged to face Klára Dobrev alone.
The withdrawal of Karácsony left many left-wing and green voters disappointed, leaving them to choose between a leftist but controversial party's candidate and
a conservative right-wing politician they were ideologically further from.
On the other hand, the second round of the primaries attracted new, mainly young and undecided, as well as right-leaning voters, who do not support Fidesz but were tired of the same-old politicians, and found a credible figure in the non-party,
anti-establishment Márki-Zay. "We saw in him a kind of credibility, the fact that he was not previously a politician, he held no position, he didn't have a party … so, there's a resistance, not only in Hungary but globally, against the perceived or real elites.
And if we see that someone is coming outside of this, and addresses us, that has an effect, that is strong. And we can commit to that, we can support that," explains a young supporter of Márki-Zay.
The second round of the opposition primaries were confidently won by Márki-Zay (56.7%) granting him the opportunity to challenge Orbán in the April 2022 elections as the candidate of the United Opposition.
His rival, Klára Dobrev, campaigning with a social, pro-European programme with feminist undertones, received 43.3% of votes. Although the results were a clear signal that many opposition voters (also on the left) had enough of the old ways associated with pre-2010 politics, DK remains strong in the countryside and among elderly voters. Whether Dobrev indeed would have had no chance against Orbán if she was to lead the United Opposition is a question that remains unanswered.
Results of the second round of opposition primaries

Turnout: first round: 633 811, second round: 662 016, altogether: 853 802
From Political Outsider to Conservative Mayor conquering a Fidesz Stronghold (Twice)
Considering that Márki-Zay had limited funding and no party structure behind him, even with Karácsony's and Momentum's support in the second round, his result was considered a great success. But who is Márki Zay and how did he end up as the opposition's leader?
Coming from a business background, living in Canada and the USA, Márki-Zay (49) was an outsider to politics till 2018, when he run as the very first candidate backed by all opposition parties in the interim elections in Hódmezővásárhely, defeating the Fidesz candidate with 57.49% of the votes in a city previously considered a Fidesz stronghold. In 2019, he defended his position in the municipal elections by winning 57.3%.
Advocating for strategic voting since 2018, Márki-Zay became the symbol of a united opposition, proving a one-to-one candidate strategy might be the way to defeat Fidesz. Moreover, he achieved this running as an independent candidate, without being a member of any opposition party. His non-party background might have been one of his biggest appeals, that led to his success also in the 2021 primaries.
The Opposition of the Opposition
"The change of the government is possible, the change of the opposition is guaranteed" – a phrase commonly used in Hungarian commentaries after the primary results and endorsed by Márki-Zay himself. One of the main appeals of Márki-Zay is that he is not associated with the pre-2010 opposition, which he considers corrupted and inefficient. Moreover, he is as vocal critic of the opposition elites as he is of the current government: "We want a new, cleaner, honest Hungary, not just to replace Orbán or his party". Márki-Zay's argument that the opposition would stand no chance against Orbán if Dobrev were to win was so convincing that Karácsony (who was still considered to have a chance of winning the primaries if running only against Dobrev) stepped down in Márki-Zay's favour to prevent this from happening.
The purification of the opposition was a major side-effect (or goal) of the primaries. During the pre-elections, the parties withdrew their support for controversial candidates, among others in the symbolic case of the Zugló MP Tóth Csaba involved in corruption scandals, where Márki-Zay (next to Momentum and the satire party, MKKP) was a vocal advocate for the full transparency in the opposition. Márki-Zay also critiqued Jobbik for negotiating with DK about stepping down in favour of each other's local candidates.
On the other hand, as Korkut points out, Márki-Zay also faces the challenge of trying to remain non-party and anti-establishment, while needing the opposition parties' structure and resources for campaign support, the lack of which may undermine the opposition's chances. The question also remains: if the United Opposition wins, how will Márki-Zay lead the six-party coalition without his own parliamentary faction?
A Credible and Unifying Candidate?
Márki-Zay profiles himself as "a catalyst of unity" according to his website. Conservative, Christian, the father of seven children, but more importantly, someone who can gain the support of not only opposition voters, but also the thousands of undecided Hungarians disillusioned by old-style opposition politics. Moreover, he often refers to himself as a "disenchanted Fidesz voter" and is here to come for previous Fidesz supporters, aiming to fill a void of a transparent, democratic, conservative centre-right.
Emphasizing his Christian faith and conservative values, but openly supporting non-heterosexual marriages, and advocating for stronger integration with the EU,
Márki-Zay pictures himself as a unifying candidate, appealing to both conservative and liberal voters, who has had enough of Hungary's polarization and politics based on othering.
Whether this offer will be enough to convince more left-leaning voters and to satisfy the left-wing politicians of the coalition who expect more social policies, and among others harshly critiqued Márki-Zay for supporting Hungary's flat tax system, remains to be seen. Nevertheless, Márki-Zay welcomes everyone in his Everybody's Hungary Movement. "Not left, not right, only upwards!" – goes his slogan.
The Programme of Márki-Zay and the United Opposition
The candidates of the primaries declared their commitment to implementing the joint programme of the United Opposition if they win in 2022. Beyond the agreed "Common Base", the main aims of Márki-Zay's programme are to fight for transparency and against corruption. If elected, he declared that the new government would:
Draw up a new constitution approved by a referendum
Hold politicians responsible and restore stolen public property
Close down propaganda media outlets
Ensure transparent and fair competition for public and EU funds
Join the European Prosecutors Office
Strengthen ties with the EU and join the Eurozone as soon as possible
Protect Hungary's borders and deport "the criminal-migrants invited by Fidesz" (among others referring to the case of

Gruevski

)
Negotiations are still ongoing with left-wing and green coalition members, who wish to see more social and ecological policy proposals.
Controversial Moves or Fighting Fire with Fire?
Aside from his success at the primaries and increased popularity, Márki-Zay has also made some controversial moves that left many potential voters disappointed, especially on the left side of the spectrum. His "migrant counter" [a billboard supposedly counting "immigrants invited by Fidesz contrasted to those invited by Soros"], his support for Hungary's border fence, and his comments referring to the potential LGBTQ orientation of Fidesz members and Orbán's son, were criticized by opposition politicians and civil society activists. They are good examples how his attempt to counter Fidesz rhetoric by using a similar rhetoric is not the way to go if he wants to keep the support of all his potential voters.
Hungarian 2022 Elections: A Tale of Two Anti-Elitist Candidates?
Anti-elitism has for some time now been part of not only Hungarian, but international politics. Orbán's anti-elitism is notoriously focused on the so-called "international Soros network", the fight against "Brussels", and foreign-funded NGOs enforcing pro-migration policies and promoting "gender propaganda". According to the Fidesz rhetoric, the Hungarian opposition is furthermore a puppet of "leftist-liberal European networks", acting against Hungary's national interests. These themes are likely to remain part of the Fidesz's 2022 election campaign.
Anti-elitism, however, has also been an important feature of Márki-Zay's campaign, directed both against Fidesz as the oppressing elite, as well as the old, discredited opposition. "Hungary has become a country without consequences. In an election here, the real question most of the time is who is going to steal, and how much." said Márki-Zay.
The politician's main campaign message is to put an end to the corruption and nepotism of Fidesz, by ousting "the most corrupt system in Hungary's thousand-year-old history". Márki-Zay also advocates for a new constitution to be consulted via referendum, as he considers the current constitution illegitimate and to serve the benefit of only one party, Fidesz. "The only change that makes sense is a radical change" he said.
By emphasizing his commitment to Christian conservative values (not further defined) and as vocal critique of the opposition, Márki-Zay furthermore poses a challenge to Fidesz communication, who can hardly label him either a "leftist-liberal Soros agent" or a "puppet of ex-PM Gyurcsány". Not that they don't try.
Jokes Aside: Can Two-Tailed Dogs Trip The Opposition?
In Hungary, however, there is one more anti-establishment force to reckon with,
the Hungarian Two-Tailed Dog Party (MKKP), a satire party registered in 2014, leading a successful counter-campaign to Orbán's 2015 xenophobic anti-immigration rhetoric. Although only standing at about 2-3% support, recently an interesting question has been raised: Will the satire party take decisive votes from the United Opposition?
This may be the worry of Márki-Zay, as he started negotiations with the leader of MKKP, Gergely Kovács, who however refused cooperation and plans to run on a separate list with 85 local candidates. Kovács expressed that, although he supports Márki-Zay as PM candidate, he is not convinced about the change of opposition promised by him. After Márki-Zay asked MKKP to resign from running independently, Kovács commented: "It appears that the opposition did not attempt to convince
Fidesz not to run in the elections. But we are on it, we are trying to convince Fidesz not to run." Thus, MKKP remains in the race and will compete for the same
anti-establishment voters that Márki-Zay targets.
What's Next?
Enjoying wide support among voters and holding a structural advantage (such as financial resources and control over the state media), the chance of Orbán and Fidesz winning the 2022 elections remains high. However, the race will be tighter than before.
Whether the Márki-Zay-led United Opposition can defeat Fidesz depends largely on the mobilization of the opposition voters and the results of the single-member constituencies, where the Democratic Coalition (DK) and Jobbik achieved the best results in the primaries. Crucial is furthermore the final composition of the opposition's common national list. If the list will feature "old elites" or controversial figures on prominent places, that may reduce Márki-Zay's credibility. However, major parties such as DK, Jobbik, and MSZP with foreseeably the most local winners will certainly have a say in the composition of the list, promoting their own candidates.
Single-member constituency results of the opposition primaries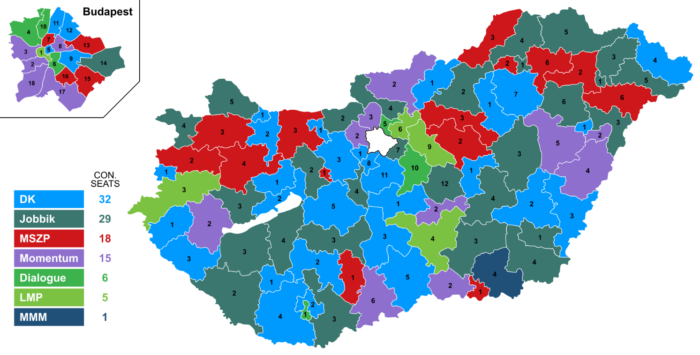 According to the latest polls from November 2021, the United Opposition (~41%) is currently leading ahead of Fidesz (~37%) by 1-4% depending on the polling.
The negotiations about places on the common opposition list and the parliamentary groups are still ongoing. Márki-Zay expressed his plan to form a separate parliamentary faction for the members of his movement and independent candidates, but as of now, no arrangements have been made. Márki-Zay already proved his mobilizing appeal, but will his momentum last till April 2022? His long-term success furthermore will also depend on his ability to present a coherent programme and to cooperate and negotiate with other opposition parties. Nevertheless, it appears that the anti-elite discourse as a theme will remain central to the 2022 election campaigns.
About the author
Rita Hornok is a PhD candidate at the Jagiellonian University in Kraków. Her research interests include national identity and nationalism, ethnic minorities and kin-state engagement, politics of the Visegrad region, as well as Hungarian memory politics.
The author is a Research Assistant on the POPREBEL project. This project has received funding from the European Union's Horizon 2020 research and innovation programme under grant agreement No 822682.
The article represents the private views of the author.